Oral Appliance Therapy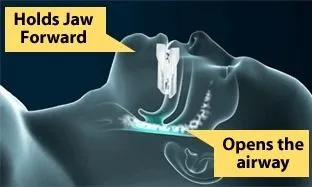 Obstructive Sleep Apnea is characterized by recurrent episodes of upper airway collapse during sleep. This collapse can lead to partial obstruction (hypopnea) and complete obstruction (apnea). Some of the signs of sleep apnea include daytime drowsiness and snoring during the night. It is estimated that 90% of the population suffering from OSA has not been diagnosed or treated. Our office uses a home sleep testing device to diagnose sleep apnea in the comfort of your own bed.
Our treatment consists of a thorough evaluation of the mouth to screen for oral appliance success. We use an acoustic rhinometer and pharyngometer to assess the nasal and pharyngeal airways. Narrow and collapsible airways are good indicators for success with oral appliance therapy. We confirm the presence of obstructive sleep apnea with a home sleep test. A custom sleep appliance is fabricated to gently move the jaw forward to open the airway and allow normal breathing. A follow-up home sleep test is then completed to confirm that the treatment is successful.
The American Academy of Sleep Medicine now considers oral appliances a first line treatment for mild to moderate sleep apnea and for those who have failed treatment attempts with CPAP. Treatment is often covered by medical insurance, and we do submit fees to medical insurance on your behalf. We have been very pleased with the results from our patients who are using oral appliance therapy to treat their mild to severe sleep apnea.