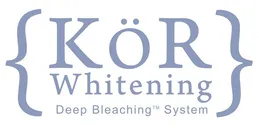 Keeping our teeth their whitest is a lot harder than it sounds. With all the coffee, wine, smoking and other foods that have the ability to stain our teeth on a daily basis, even proper maintenance sometimes leaves them a little lackluster. Teeth whitening is an excellent way to restore the natural color of your teeth or even make them whiter than your natural color if you would like.

To accomplish the whitening of your teeth, we utilize a product called KöR. KöR Whitening was ranked the most effective and reliable way to whiten your teeth permanently, by a respected dental products journal. No other dental product of any type has ever been ranked higher than KöR Whitening, and KöR is the only whitening system to ever receive a rating of "Best Product".
The KöR Whitening Deep Bleaching™ System works by restoring your teeth's ability to absorb oxygen. The oxygen from its whitening gel is absorbed deeply into the tooth, dissolving stain molecules. After several years of research, development and clinical testing, the inventor of the KöR Whitening Deep Bleaching System introduced a whitening gel that, in most cases, produces little to no sensitivity. As a result, most patients have no discomfort from whitening when using this technique.